Rockledge Regional enhances experience of expectant mothers, babies with 'hotel-like' amenities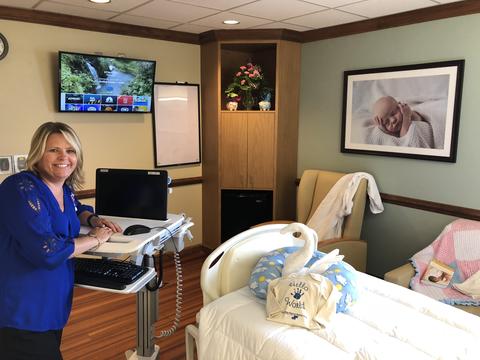 Rockledge, FL (April 24, 2018) – Expectant mothers who plan to deliver at Rockledge Regional Medical Center's Steward Family Birthplace can expect to be pampered like never before. Kristy Brackett, BSN, RN, director of maternal child services, said the hospital has launched its Signature Maternity program with numerous enhancements in its maternal suites that include complimentary plush bathrobes, upgraded linens and towels, natural and organic bath products, and a pregnancy concierge service.
In addition, each beautifully decorated private suite features a smart TV and a refrigerator stocked with nutritional snack foods and beverages.
"We want to offer these patients a setting that is far less clinical and more hotel-like," said Brackett, who has been a registered nurse at Rockledge Regional for 10 years. "Obviously, it's a significant moment in each of these families' lives, and our goal is to make it more memorable and comfortable with these special amenities."
The pregnancy concierge will serve as the expectant mom's guide during the entire birthing experience, starting at 22 weeks. The concierge will review a birth wish list with the expectant mother, which includes her preferences on her birth experience, such as whether she would like to use pain medication during delivery, who she designates to cut the umbilical cord and if she will breast feed or formula feed. The concierge also will help mom register for educational sessions on childbirth, parenting and breastfeeding and will be there to answer any questions that may arise throughout the pregnancy.
The hospital also teamed up with Absolutely Natural Inc., a Melbourne company that specializes in skin-care products, which is supplying bath items that are primarily found in elite vacation resorts around the world. Absolutely Natural products are blended with natural and select organic ingredients.
Brackett also said the expectant couple will enjoy gourmet meals during the hospital stay.
"A special event like this deserves special meals," she said.
Rockledge Regional Medical Center will host an open house of the enhanced maternity suites from 5 to 7 p.m. on April 30. The Signature Maternity amenities will debut on Mother's Day, May 13.
To RSVP for the open house, visit rockledgeregional.org or call 321-637-2727.