Digital mammography is the most effective method of early detection in the fight against breast cancer. This technology offers women a number of benefits, including improved image quality, reduced procedure time and enhanced patient comfort.
A Genius ™ 3D™ mammogram captures multiple images of the breast (using x-rays) from various angles in order to create a composite image. This allows doctors to examine breast tissue layer by layer, versus one flat image. Instead of viewing all complexities of the breast tissue using a flat image, fine details are more visible and are no longer hidden by breast tissue above or below.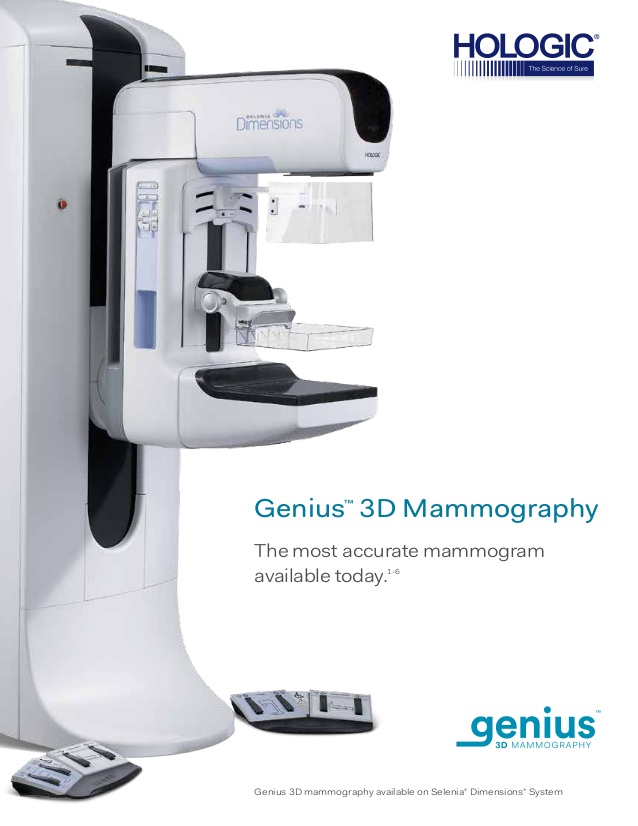 Wishing for a more comfortable mammogram?  The SmartCurve system provides a curved compression surface that offers a more comfortable patient experience without compromising image quality and exam time.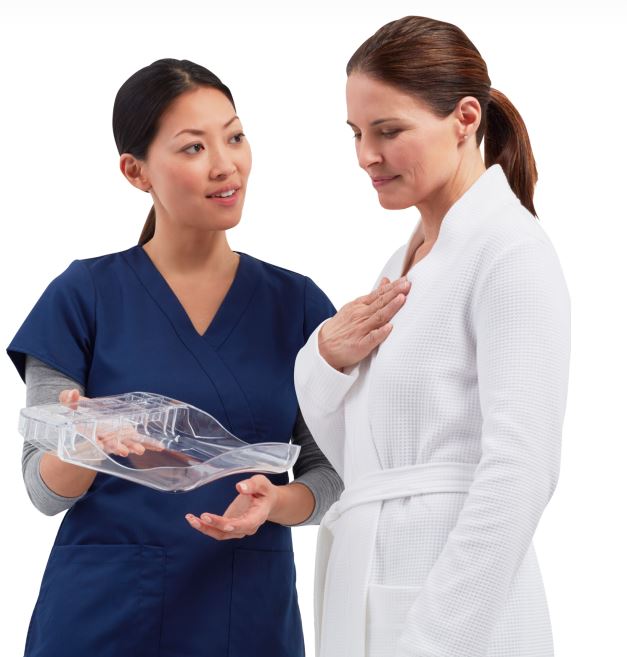 Mammogram and breast examination guidelines:
If you are between the ages of 20 and 40, you should perform a breast self-examination every month and have a breast examination by a physician every three years
If you are between the ages of 30 and 35 and have a strong family history of breast cancer, you should have a mammogram
If you are 35 or over, a baseline mammogram should be done for later comparison
By age 40, you should do a breast self-examination every month, have a breast exam by a physician and a mammography every year
After age 50, you should continue your breast self-examination every month, and have a physician breast exam and mammogram every year
Who's at risk for breast cancer?
Because breast cancer is the most common type of cancer in women, every woman should consider herself at risk. However, the following factors put you at higher risk for breast cancer:
Over 50 years old
Previous breast cancer or benign breast disease
Family history of breast cancer (especially maternal)x
No full-term pregnancies
Pregnancy of first child after age 30
Early menstruation (before age 13)
Late menopause (after age 52)
Diet high in fat
Obesity
What are the symptoms of breast cancer?
Since most breast cancers are discovered by women themselves, it is important for you to know what to look for:
A lump or thickening in the breast
A change in breast shape
Discharge from the nipple
Skin changes (color, texture, consistency)
Puckering or dimpling
Nipple inversion (pulling inward)
Accreditation Frequently Asked Questions
Why should I have my imaging exam done at an accredited facility?
When you see the gold seals of accreditation prominently displayed in our imaging facility, you can be sure that you are in a facility that meets standards for imaging quality and safety. Look for the ACR Gold Seals of Accreditation.
To achieve the ACR Gold Standard of Accreditation, our facility's personnel qualifications, equipment requirements, quality assurance, and quality control procedures have gone through a rigorous review process and have met specific qualifications. It's important for patients to know that every aspect of the ACR accreditation process is overseen by board-certified, expert radiologists and medical physicists in advanced diagnostic imaging.
What does ACR accreditation mean?
Our facility has voluntarily gone through a vigorous review process to ensure that we meet nationally-accepted standards of care.
Our personnel are well qualified, through education and certification, to perform medical imaging, interpret your images, and administer your radiation therapy treatments.
Our equipment is appropriate for the test or treatment you will receive, and our facility meets or exceeds quality assurance and safety guidelines.
What does the gold seal mean?
When you see the ACR gold seal, you can rest assured that your prescribed imaging test will be done at a facility that has met the highest level of imaging quality and radiation safety. The facility and its personnel have gone through a comprehensive review to earn accreditation status by the American College of Radiology (ACR), the largest and oldest imaging accrediting body in the U.S. and a professional organization of 34,000 physicians.