Rockledge Regional Medical Center and Steward Medical Group Welcome Cardiovascular/Thoracic Surgeon, José Montalvo, MD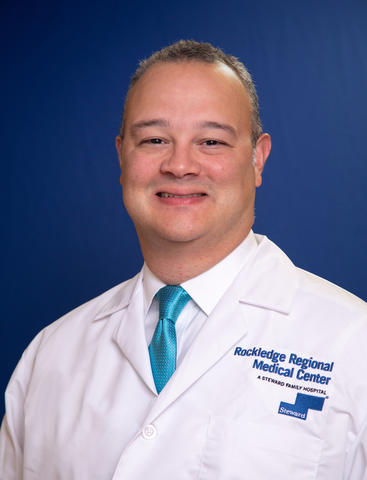 Rockledge Regional Medical Center and Steward Medical Group are pleased to welcome José Montalvo, MD. Dr. Montalvo specializes in adult cardiac and thoracic surgical care, which includes the heart, its valves, the lungs and other organs of the chest. The addition of Dr. Montalvo enhances access to care in the community for patients of Steward Health Care. Steward is one of the world's leading accountable care organizations that focuses on providing high-quality, affordable care at the right place, and at the right time, in a convenient, close-to-home setting for patients.
Dr. Montalvo graduated with a bachelor in arts from Georgetown University in Washington, D.C., and went on to earn a medical degree from the University of Puerto Rico, School of Medicine in San Juan, Puerto Rico where he also completed his residency in general surgery. He completed a residency in cardiothoracic surgery at Loma Linda University Medical Center in Loma Linda, Calif.
Dr. Montalvo grew up in a medical family: Both his parents were physicians. Accordingly, his interest in pursuing a healthcare profession came naturally. "I learned early in life to appreciate the commitment required to take care of sick people," he said. "My interest in being a physician goes back to when I was a kid."
He added that his specific career path became apparent once he entered medical school. "The prospect of dealing with complex heart conditions, improving patient outcomes and well-being, were interesting to me," Dr. Montalvo said. 
While in medical school, Dr. Montalvo earned a number of distinguished academic honors, including first place in the Clinical Sciences category at the F.L. Raffucci Memorial Lecture and Surgical Research Forum. The year before, his clinical paper won first place in an American College of Surgeons competition. He also graduated magna cum laude from the University of Puerto Rico School of Medicine.
One of the main benefits of Dr. Montalvo's chosen profession is being a part of so many positive results that affect people's lives, he said. "I help patients get through complicated problems and feel better," he said. "That's the most fulfilling aspect for me."
"We are delighted to have Dr. Montalvo join our team of providers at Steward Medical Group," said Sanjay Shetty, MD, MBA, President of Steward Medical Group.  "Dr. Montalvo brings a strong commitment to providing care in the community and patients will benefit from his skills and expertise."
Dr. Montalvo is accepting new patients at Steward Medical Group Surgical Associates of Brevard, 1133 Seminole Drive, in Rockledge. The office may be reached at 321-433-3322.