Rockledge Regional Wound Care and Hyperbaric Center RECOGNIZED WITH NATIONAL AWARD FOR EXCELLENCE IN WOUND HEALING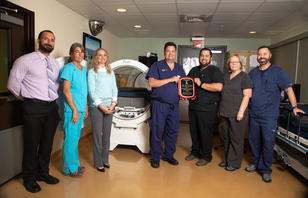 Photo L to R: Wound Care Director, Victor Stanley, Carol Baggett; Cayla Jennings, Alphonse Pecoraro, MD, Chris Beeman, Janice Dean and Wade Fenno.
Rockledge Regional Wound Care and Hyperbaric Center RECOGNIZED WITH NATIONAL AWARD FOR EXCELLENCE IN WOUND HEALING
Rockledge, FL (May 15, 2019) – Rockledge Regional Medical Center physicians, leaders and clinicians gathered today to celebrate the Robert A. Warriner III, M.D., Center of Excellence award, which was given to Rockledge Regional Wound Care and Hyperbaric Center. This Center has achieved patient satisfaction rates higher than 92 percent and a remarkable healing rate of at least 91 percent in less than 30 median days, for a minimum of two consecutive years. The Center was awarded this prestigious honor by Healogics, the nation's largest provider of advanced wound care services. The award is named for Dr. Robert A. Warriner III, a pioneer in wound care and the former Chief Medical Officer for Healogics.
"We are honored to receive this award as it exemplifies our commitment to quality service and patient care," said Rockledge Regional Medical Center President, Andy Romine. "Our team of doctors, nursing staff and employees work well as a team to promote the healing of chronic wounds and help patients recover as quickly as possible."
The Rockledge Regional Wound Care and Hyperbaric Center is a member of the Healogics network of nearly 700 Wound Care Centers®, with access to benchmarking data and proven experience treating approximately 2.5 million chronic wounds. Rockledge Regional Wound Care and Hyperbaric Center offers highly specialized wound care to patients suffering from diabetic ulcers, pressure ulcers, infections and other chronic wounds which have not healed in a reasonable amount of time. Leading edge treatments at the Center include negative pressure wound therapy, total contact casting, bio-engineered tissues, biosynthetic dressings and growth factor therapies. The Center also offers hyperbaric oxygen therapy, which works by surrounding the patient with 100 percent oxygen to help progress the healing of the wound.
"There are other wound care centers to choose from, however, our employees and physicians are truly what separate us. They go above and beyond to keep patients happy and to get them healed."
About Steward Health Care – Rockledge & Melbourne The Mission of Rockledge Regional Medical Center and Melbourne Regional Medical Center: Everyone doing everything to pursue the perfect patient experience. Both hospitals are full acute care hospitals and includes a network of affiliates providing rehab services, wound care, laboratory services and assisted living. For more information on Rockledge Regional Medical Center or Melbourne Regional Medical Center, visit: www.Rockledgeregional.org and www.Melbourneregional.org.
About Steward Health Care Steward Health Care is the nation's largest private, for profit physician led health care network in the United States. Headquartered in Dallas, Texas, Steward operates 36 hospitals in the United States and the country of Malta that regularly receive top awards for quality and safety. The company employs approximately 40,000 health care professionals. The Steward network includes multiple urgent care centers and skilled nursing facilities, substantial behavioral health services, over 7,900 beds under management, and approximately 2.2 million full risk covered lives through the company's managed care and health insurance services. The total number of paneled lives within Steward's integrated care network is projected to reach three million in 2018.
The Steward Health Care Network includes five thousand physicians across 800 communities who help to provide more than 12 million patient encounters per year. Steward Medical Group, the company's employed physician group, provides more than six million patient encounters per year. The Steward Hospital Group operates hospitals in Malta and nine states across the U.S., including Arizona, Arkansas, Florida, Louisiana, Massachusetts, Ohio, Pennsylvania, Texas, and Utah.
About Healogics
Headquartered in Jacksonville, Fla., Healogics is the nation's wound healing expert. Last year over 330,000 patients received advanced wound care through a nationwide network of nearly 700 Wound Care Centers®. The Healogics team is made up of almost 3,000 employees, 4,000 affiliated physicians and a Healogics Specialty Physician practice group of nearly 300. In addition to the company's network of outpatient Centers, Healogics partners with over 300 skilled nursing facilities to care for patients with chronic wounds, and provides inpatient consults at more than 80 partner hospitals. As the industry leader, Healogics has the largest repository of chronic wound-specific patient data in the country. The Healogics Wound Science Initiative, an effort launched in 2017 to provide peer-reviewed research, recognizes the value and relevance of big data and advanced analytics to drive continuous, collaborative learning towards a better understanding of how to efficiently utilize healthcare resources for patients with wounds. For additional information, please visit Healogics.com.