EMS Stewards of the Community Awards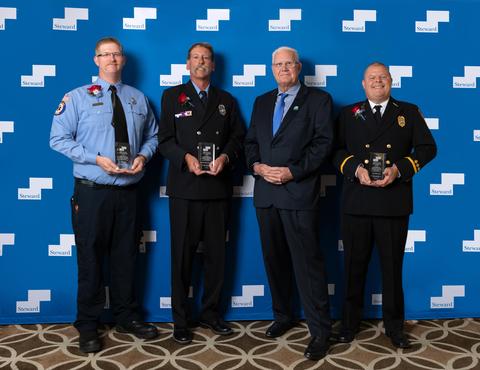 Steward Health Care Names Eric Wildenradt, Christopher Chadwick and Joshua Bender Exceptional EMS Providers at  "EMS Stewards of the Community" Awards
In the second annual awards ceremony, Steward recognized EMS providers hailing from Brevard County Fire Rescue and Indian River County Fire Rescue
Melbourne, Rockledge and Sebastian- FL (May 23, 2019) – In celebration of National Emergency Medical Service (EMS) week, Steward Health Care System held the "EMS Stewards of the Community" Award Ceremony on May 22. Each hospital recognized an EMS provider for going "above and beyond" in their interactions with their patients. The awards were presented to Brevard County Fire Rescue, Lieutenant/ Paramedic Eric Wildenradt and Firefighter/ Paramedic Christopher Chadwick; and Indian River County Fire Rescue, Engineer/ Paramedic Joshua Bender.
"Every day, the brave men and women of EMS demonstrate their rigorous training, compassion, and willingness to serve others," said Rockledge Mayor and Chairman of the Board for Rockledge and Melbourne Regional Medical Centers, Tom Price. "This is an opportunity to recognize their outstanding contributions to EMS professions and their quality of care to the patients they serve."
The "EMS Stewards of the Community" awards, took place at the Melbourne Hilton Rialto in Melbourne, and showed appreciation for emergency medical responders, emergency medical technicians, advanced emergency medical technicians, and paramedics who not only carry out the noble work of caring for others, but do so with a high degree of expertise, professionalism, and compassion. An internal committee of physicians and EMS Directors selected the award recipients among current providers in communities served by Steward. As part of National EMS Week, the hospitals also hosted on site celebrations for the local EMS providers.
Cutline: City of Rockledge Mayor, Tom Price, the keynote speaker for the event, spoke about the history of EMS providers and their importance to the community and the hospitals. He is pictured with the award recipients, Joshua Bender, Christopher Chadwick and Eric Wildenradt.
About Steward Health Care
Steward Health Care is the largest private, for profit physician led health care network in the United States. Headquartered in Dallas, Texas, Steward operates 36 hospitals in the United States and the country of Malta that regularly receive top awards for quality and safety. The company employs approximately 40,000 health care professionals. The Steward network includes multiple urgent care centers and skilled nursing facilities, substantial behavioral health services, over 7,900 beds under management, and approximately 2.2 million full risk covered lives through the company's managed care and health insurance services.
The Steward Health Care Network includes five thousand physicians across 800 communities who help to provide more than 12 million patient encounters per year. Steward Medical Group, the company's employed physician group, provides more than six million patient encounters per year. The Steward Hospital Group operates hospitals in Malta and nine states across the U.S., including Arizona, Arkansas, Florida, Louisiana, Massachusetts, Ohio, Pennsylvania, Texas, and Utah.