Cardiac Team at Rockledge Regional Medical Center Performs 100th WATCHMAN Procedure, a Noninvasive Cardiac Treatment to Reduce Risk of Stroke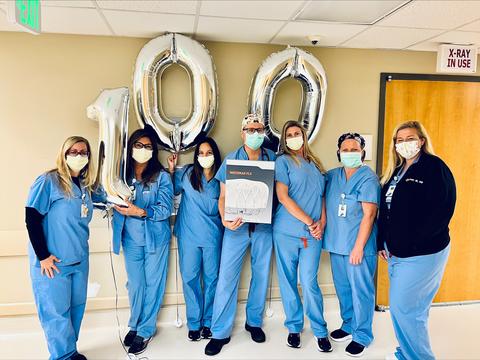 An implantable device for those suffering from non-valvular atrial fibrillation
Rockledge, Florida (April 14, 2022) – The electrophysiology team at Rockledge Regional Medical Center, led by Stephen Watts, MD, electrophysiologist, have successfully completed a WATCHMAN implantation on the team's one hundredth patient! This milestone, achieved last week, began with the team's first implant in July of 2019, affording patients suffering from non-valvular atrial fibrillation (AF) the opportunity to reduce or eliminate their use of blood thinners.
WATCHMAN is a permanent device designed to close the left atrial appendage keeping harmful blood clots from entering the blood stream, reducing the risk of a stroke for patients with non-valvular AF. This one time minimally invasive procedure offers a lifetime of hope to those living with non-valvular AF giving patients an alternative to the lifelong use of blood thinners. AF is a heart condition where the upper chambers of the heart beat fast in an irregular rhythm. AF is the most common cardiac arrhythmia affecting up to six million people, and those suffering from AF have a five times greater risk of stroke than those with normal heart rhythms.
"Improving the overall health of my patients is the goal, and the goal of our cardiac team," said Stephen Watts, MD. "The WATCHMAN allows us to improve the quality of life for those suffering from non-valvular atrial fibrillation, giving them the opportunity to reduce medication use and reduce their likelihood of suffering from the possible devastating effects of a stroke. Implanting the one hundredth device shows our team's commitment to excellence and to the health of those in our community."
Thank you to the entire cardiac team at Rockledge Regional Medical Center, Stephen Watts, MD, electrophysiologist, Porur Somasundaram, MD, electrophysiologist, Ravi Rao, MD, cardiologist, for providing the latest technology and compassionate care to all patients that come to Rockledge for their cardiac care.
For more information on the cardiac services provided at Rockledge Regional Medical Center visit rockledgeregional.org/services-directory/cardiology .  To find a healthcare provider, visit  providers.steward.org.
Steward's footprint in Brevard and Indian River Counties includes more than 300 providers care ranging from primary care and women's health to orthopedics and other specialty services.
About Steward Health Care – Rockledge & Melbourne
The Mission of Rockledge Regional Medical Center and Melbourne Regional Medical Center is to provide the highest quality health care with compassion and respect. Both hospitals are full acute care hospitals and includes a network of affiliates providing rehab services, wound care, laboratory services and pain management. For more information on, visit: RockledgeRegional.org and MelbourneRegional.org.
About Steward Health Care System:
Nearly a decade ago, Steward Health Care System emerged as a different kind of health care company designed to usher in a new era of wellness. One that provides our patients better, more proactive care at a sustainable cost, our providers unrivaled coordination of care, and our communities greater prosperity and stability.
As the country's largest physician-led, tax paying, integrated health care system, our doctors can be certain that we share their interests and those of their patients. Together we are on a mission to revolutionize the way health care is delivered - creating healthier lives, thriving communities and a better world.
Steward is among the nation's largest and most successful accountable care organizations (ACO), with more than 5,500 providers and 43,000 health care professionals who care for 12.3 million patients a year through a closely integrated network of hospitals, multispecialty medical groups, urgent care centers, skilled nursing facilities and behavioral health centers. 
Based in Dallas, Steward currently operates 39 hospitals across Arizona, Arkansas, Florida, Louisiana, Massachusetts, Ohio, Pennsylvania, Texas, and Utah.
For more information, visit www.steward.org.