Rockledge Regional Medical Center Earns An 'A' Hospital Safety Grade from The Leapfrog Group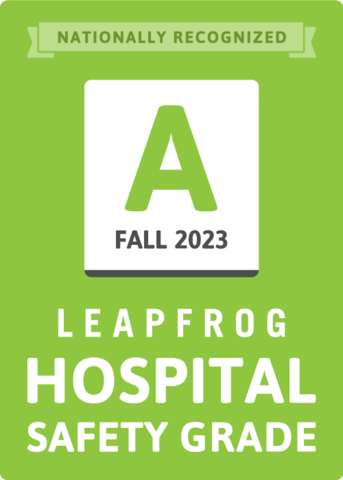 "A" Grade for Fall 2023 is a national recognition for patient safety
Rockledge, Florida (November 6, 2023) – Rockledge Regional Medical Center, a Steward Family Hospital, earned an "A" Hospital Safety Grade from The Leapfrog Group, a national nonprofit watchdog that sets standards for excellence in patient care.  Leapfrog assigns an "A," "B," "C," "D" or "F" grade to general hospitals across the country based on over 30 national performance measures reflecting errors, accidents, injuries, and infections, as well as the systems hospitals have in place to prevent harm.
"It's a significant achievement, one that reflects our entire organization's ongoing commitment to patient safety," said Tom Bowden, President of Rockledge Regional Medical Center. "I'm grateful for our dedicated teams, who work tirelessly to consistently deliver the best outcomes to the Space Coast community."
The Leapfrog Hospital Safety Grade is the only hospital ratings program exclusively based on hospital prevention of medical errors, infections and injuries that kill more than 500 patients a day nationally. The Leapfrog Hospital Safety Grade is peer-reviewed, fully transparent and free to the public. Grades are updated twice annually in the fall and spring.
"Earning an 'A' Grade means Rockledge Regional Medical Center made a true commitment to put patients first," said Leah Binder, President, and CEO of The Leapfrog Group. "We congratulate the leadership, Board, clinicians, staff and volunteers that all had a role to play in this achievement."
To see Rockledge Regional Medical Center's full grade details and to access patient tips for staying safe in the hospital, visit HospitalSafetyGrade.org and follow The Leapfrog Group on Twitter, Facebook and via its newsletter. 
###
About Rockledge Regional Medical Center
Rockledge Regional Medical Center, a Steward Family Hospital, is a nationally recognized facility located on the Space Coast of Florida, offering the highest quality health care with compassion and respect. We are accredited by the Joint Commission, earned a Leapfrog Hospital Safety Grade "A" Fall 2023 for patient safety,  recognized by the Joint Commission as an Advanced Stroke Center, Get With the Guidelines Stroke Gold Plus Award, recognized by the American Heart Association Mission: Lifeline Silver Award for the Care of STEMI patients, recognized by American College of Cardiology in the "Best Hospitals" issue of U. S. News & World Report, and a 2023 Birnbaum Quality Leadership Top Performer by Vizient. We provide state-of-the-art technology, comprehensive emergency services, and award winning cardiac and maternity care. We are a full acute care hospital that includes a network of affiliates providing rehabilitation services, wound care, laboratory services and pain management. Rockledge Regional Medical Center is located at 110 Longwood Ave., Rockledge, FL 32955. For more information, please call 321-636-2211 or visit RockledgeRegional.org.
About Steward Health Care 
Nearly a decade ago, Steward Health Care System emerged as a different kind of health care company designed to usher in a new era of wellness. One that provides our patients better, more proactive care at a sustainable cost, our providers unrivaled coordination of care, and our communities greater prosperity and stability. 
 
As the country's largest physician-led, minority-owned, integrated health care system, our doctors can be certain that we share their interests and those of their patients. Together we are on a mission to revolutionize the way health care is delivered - creating healthier lives, thriving communities and a better world. 
 
Steward is among the nation's largest and most successful accountable care organizations (ACO), with more than 5,500 providers and 43,000 health care professionals who care for 12.3 million patients a year through a closely integrated network of hospitals, multispecialty medical groups, urgent care centers, skilled nursing facilities and behavioral health centers. 
 
Based in Dallas, Steward currently operates 33 hospitals across Arizona, Arkansas, Florida, Louisiana, Massachusetts, Ohio, Pennsylvania, and Texas.
For more information, visit www.steward.org.
About The Leapfrog Group                                                                                  
Founded in 2000 by large employers and other purchasers, The Leapfrog Group is a national nonprofit organization driving a movement for giant leaps for patient safety. The flagship Leapfrog Hospital Survey and Leapfrog Ambulatory Surgery Center (ASC) Survey collect and transparently report hospital and ASC performance, empowering purchasers to find the highest-value care and giving consumers the lifesaving information they need to make informed decisions. The Leapfrog Hospital Safety Grade, Leapfrog's other main initiative, assigns letter grades to hospitals based on their record of patient safety, helping consumers protect themselves and their families from errors, injuries, accidents and infections. For more, follow us on Twitter and Facebook, and sign up for our newsletter.