Surgical Services
State-of-the-art surgical care in a full range of specialties, utilizing the latest surgical techniques.
Surgical Services
110 Longwood Ave.
Rockledge, FL 32955
321-636-2211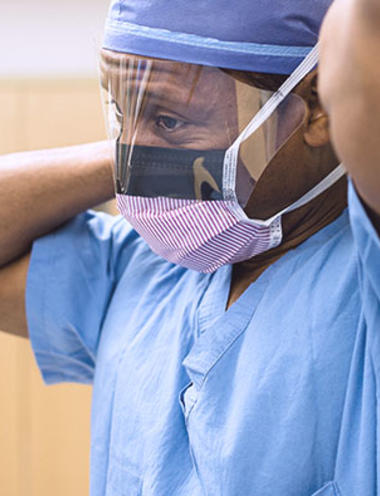 Learn more about pre-registration, or speak with a pre-registration representative.
Advanced & General Surgical Procedures at Rockledge Regional Medical Center
If you or a loved one needs surgery, you can count on exceptional care from Wuesthoff Medical Center–Rockledge. We offer a full range of surgical services in almost every medical specialty –everything from general surgery to treat colorectal cancer, gastroesophageal reflux and hernias to minimally invasive and robotic-assisted surgical options. Services include:
Breast Cancer Surgery
Surgery is often the primary treatment for breast cancer in order to remove as much of the cancerous tissue as possible. Surgeons are well equipped to perform a range of surgical procedures, including lumpectomy, partial mastectomy, total mastectomy and breast reconstruction.
Cardiothoracic/Thoracic Surgery
Our cardiovascular and thoracic surgeons are well equipped to perform a wide range of surgical treatment options from open-heart surgery to minimally invasive procedures, including robotic surgery.
Colorectal Surgery
Whenever possible, surgeons use minimally invasive techniques for colorectal conditions, such as laparoscopic and robotic surgery, which offer smaller incisions, less pain, and a quicker recovery.
Eye Surgery
Our surgeons specialize in cataract surgery (phacoemulsification) with lens implant, corneal transplant surgery, glaucoma treatment and surgery, refractive surgery, retinal surgery, ocular plastic and reconstructive surgery, and muscle surgery.
Gynecological Surgery
We utilize the latest in surgical technology, including minimally invasive techniques using lasers and robotic surgery with the da Vinci® Si™ Surgical System, which offer less pain, smaller scars, and a quicker recovery.
Laser Surgery
Uses special light beams instead of instruments for surgical procedures and can offer an alternative to traditional surgery. Laser surgery poses a minimal risk of infection, causes less trauma to tissues, and can offer a quicker recovery.
Neurosurgery
Our surgeons have access to advanced imaging technology for care planning and utilize state-of-the-art surgical technology to provide care including non-invasive and minimally invasive options and intraoperative monitoring.
Orthopedic Surgery
We use minimally invasive techniques whenever possible, including robotic surgery, and offer a full range of services, including diskectomy, foot and ankle procedures, hand and wrist surgery, knee and hip resurfacing, laminectomy, reconstructive surgery, shoulder surgery, spine surgery, and total replacement of the hip, knee, shoulder and elbow.
Plastic Surgery
Whether you're interested in laser surgery to minimize wrinkles or age spots, or are considering surgical contouring procedure, we offer some of the latest techniques in cosmetic surgery including laser skin resurfacing, facelift, eyelid surgery, breast augmentation, reduction or reconstruction, tummy tuck, liposuction, and nose surgery.
Robotic Surgery
Provides a safe, minimally invasive approach to surgery that allows surgeons to perform complex surgical procedures through small incisions. For patients, robotic surgery offers less pain and scarring, lower risk of infection, shorter hospital stays and quicker recovery.
Urological Surgery
Our surgeons offer progressive surgical methods to treat urinary tract conditions using minimally invasive and robot-assisted techniques whenever possible. We treat conditions, including prostate cancer, bladder disorders, kidney stones and pelvic conditions.
Vascular Surgery
Our surgeons provide treatment for everything from aneurysms and carotid artery blockages to peripheral vascular and venous diseases using minimally invasive options to address vascular and venous conditions.
Rockledge Regional Medical Center's surgeons are recognized for their expertise in minimally invasive procedures. By using miniature cameras with microscopes, tiny fiber-optic flashlights, and high-definition monitors, surgeons can perform surgery through small incisions that take only a few stitches to close. Smaller incisions result in less blood loss, less pain, and a quicker recovery.
Minimally-Invasive Procedures
Arthroscopic surgery
Endovascular techniques (catheter-guided procedures)
Laparoscopic surgery
Laser surgery
Robotic surgery
LINX® Reflux Management System

LINX® is a flexible ring of small magnets placed around the lower esophageal sphincter during a minimally invasive procedure. The strength of the magnets helps keep the weak lower esophageal sphincter closed to prevent reflux. When patients swallow, LINX® opens temporarily to allow food and liquid to pass into the stomach. 
 
Frequently asked questions
How long will I be there?
An approximate length of stay will be provided by the nurse during your pre op call.
 
How much is my co-pay?
Please contact your insurance company.
 
Can I drive myself?
You will have sedation and will not be able to drive.  You must have a responsible adult to drive you home.
 
What is my arrival time?
We will call you after 1 pm the day before surgery to give you an arrival time.
 
Does someone have to stay with me the entire time?
No. We will call your transportation person and arrange a pickup time.   Please provide the cell phone number.
 
When will I be able to eat?
Your nurse will discuss when to resume your diet and any restrictions following your procedure as part of your discharge instructions.